Open lecture by David Serlin
EVENEMANG
Datum:
15 maj 2017 15:30
-
15 maj 2017 17:30
Plats:
D9
"Undoing the Seams: Prosthetics, Disability, and the Brave New World of Queer Masculinity". Open lecture by David Serlin, University of California San Diego (no registration required).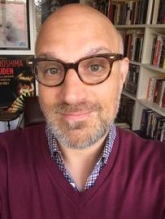 About the presentation
This presentation discusses the ways that the bodies of male prosthesis users — in particular, male military veterans, Paralympic athletes, and runway models — have been both sites of and mediums for changing perceptions of contemporary masculinity. While some male prosthesis users continue to think of embodied technologies as compensatory tools that reaffirms traditional claims to gendered normalcy and heterosexual male power, others are exploring the queer and nonnormative dimensions of embodied technologies that challenge and expose claims to gendered normalcy and heterosexual male power. Using examples drawn from technology studies, media studies, gender and queer studies, and art and material culture studies, this presentation will argue that these two approaches to the embodied technology of the prosthesis have broad implications for thinking about gender, disability, and political power in the contemporary moment. ​
About David Serlin
David Serlin is associate professor at The Department of Communication, University of California San Diego. His research interests are: Historical and cultural approaches to disability, technology, and the politics of design; architecture, urbanism, and the built environment; material culture and museum studies; scientific and aesthetic histories of the senses, especially tactility and cognition; feminist, crip, and queer theories of embodiment and subjectivity. He is the author of Replaceable You: Engineering the Body in Postwar America (2006) and Imagining Illness: Public Health and Visual Culture (2010).
More about the event
The event is organized by the Nordic Network Gender, Body, Health in collaboration with Gender Studies, Stockholm University and SKOK, University of Bergen.
The lecture is a part of the project The Embodied Self, Health and Emerging Technologies: Implications for Gender and Identity, funded by NOS-HS and The Nordic Culture Fund.
Senast uppdaterad: 10 maj 2017
Webbredaktör: Henning Brüllhoff
Sidansvarig: Institutionen för etnologi, religionshistoria och genusvetenskap