Kocku von Stuckrad: Rejected Theory in the Study of Esotericism
The academic study of what is labeled 'Western esotericism' has by now established itself as a flourishing field of research that contributes to disciplines such as the academic study of religion, history, sociology, and cultural studies.
While scholars in the field of 'Western esotericism' usually claim to contribute significantly to these academic disciplines, it is surprising to see that their publications only rarely take notice of methodological and theoretical discussions that have challenged and transformed these very disciplines.
Even leading representatives of the field do not critically engage concepts such as 'knowledge,' 'secrecy,' 'polemics,' 'identity,' 'history,' 'pluralism,' or 'the West,' even though these terms figure prominently in their historical analysis. The result is an unreflective, at times even naïve understanding of what characterizes the study of 'Western esotericism' and how it should be linked to historical, sociological, and cultural research.
The lecture reviews influential recent contributions to the field of 'Western esotericism' and critically addresses their lacking theoretical basis. It is argued that it will be essential to actively engage with theoretical and methodological discussions in the fields of historiography and sociology, if the study of 'Western esotericism' wants to be taken seriously in a wider academic context and if it wants to leave the niche into which it has maneuvered itself.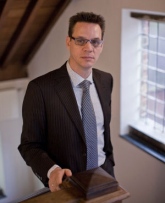 Kocku von Stuckrad

Kocku von Stuckrad is professor of religious studies and head of the Department of Comparative and Historical Study of Religion at the University of Groningen, the Netherlands. He is particularly interested in method and theory in the study of religion, as well as in the dynamics of European history of religion from antiquity to the present. Within these fields of research, he has published extensively on esoteric discourses in Western culture, astrology, shamanism, and on topics related to religion, nature, and science.
His monographs include Das Ringen um die Astrologie: Jüdische und christliche Beiträge zum antiken Zeitverständnis (2000); Schamanismus und Esoterik: Kultur- und wissenschaftsgeschichtliche Betrachtungen (2003); Einführung in die Religionswissenschaft: Gegenstände und Begriffe (2003, with Hans G. Kippenberg); Western Esotericism: A Brief History of Secret Knowledge (2005); a History of Astrology from Earliest Times to the Present (available in 5 languages); and most recently, Locations of Knowledge in Medieval and Early Modern Europe: Esoteric Discourse and Western Identities (2010).
He edited The Brill Dictionary of Religion (2006) and the Vocabulary for the Study of Religion (with Robert Segal, Brill, forthcoming 2013). He is co-editor of the Journal of Religion in Europe (Brill), the Religion and Society Series (De Gruyter), the Numen Book Series (Brill), and the Gnostica Series (Equinox).
He has served as chair of the Critical Theory and Discourses on Religion Group and is now co-chair of the Religion in Europe Group of the American Academy of Religion. He was the president of the International Society for the Study of Religion, Nature, and Culture and is currently the president of the Dutch Association for the Study of Religion.
Back to the list of Keynote Speakers
Senast uppdaterad: 7 maj 2012
Webbredaktör: Clara Bergström
Sidansvarig: Department of Ethnology, History of Religions and Gender Studies