Online Education at ERG this Autumn
Following the recommendations of the Swedish Public Health Authority the department will continue online education the first half of the autumn semester 2020.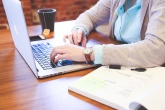 This includes period A and B (August 31 - November 2). For period C and D campus based education is intended, if allowed by the Swedish Public Health Authority. Further information will be announced no later than October 1.
To allow an exception from this decision, valid reasons that show the necessity of such an exception must be presented.
Do you have any questions concerning your education at our department this autumn? Please contact our directors of studies:
Ethnology
Lisa Wiklund
lisa.wiklund@etnologi.su.se
History of Religions
Marja-Liisa Keinänen
marja-liisa.keinanen@rel.su.se
Gender Studies
Anna Cavallin
anna.cavallin@gender.su.se
Last updated: June 22, 2020
Page editor: Henning Brüllhoff
Source: Department of Ethnology, History of Religions and Gender Studies