Fataneh Farahani i ny antologi
Nu finns boken "Narratives of Marginalized Identities in Higher Education" tillgänglig från Routledge. ERG:s medarbetare Fataneh Farahani medverkar med kapitlet "The Racialised Knowledge Economy" skrivet tillsammans med Suruchi Thapar-Björkert.
Om artikeln
The aim of this article is to examine the impact of racialization and othering process within the academic community on knowledge production and knowledge producers in academic instituitions. We explore these ideas through a) the presence or absence of a sense of entitlement within different academic settings and communities, b) how uncultivated sense of entitlement or unearned entitlements generate (un)comforted zones and 3) who is heard and who is silenced in these academic fields and its subsequent impact on knowledge production?
Keywords: Racializing epistemology, knowledge-production, academy, racism, inclusion and exclusion, intersectionality
Om boken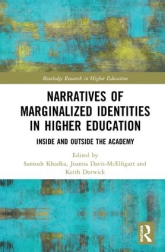 This book features theorized narratives from academics who inhabit marginalized identity positions, including, among others, academics with non-normative genders, sexualities, and relationships; nontenured faculty; racial and ethnic minorities; scholars with HIV, depression and anxiety, and other disabilities; immigrants and international students; and poor and working-class faculty and students. The chapters in this volume explore the ways in which marginalized identities fundamentally shape and impact the academic experience; thus, the contributors in this collection demonstrate how academic outsiderism works both within the confines of their college or university systems, and a broader matrix of community, state, and international relations. With an emphasis on the inherent intersectionality of identity positions, this book addresses the broad matrix of ways academics navigate their particular locations as marginalized subjects.
Senast uppdaterad: 2 oktober 2018
Webbredaktör: Henning Brüllhoff
Sidansvarig: Institutionen för etnologi, religionshistoria och genusvetenskap