Fataneh Farahani in New Book
Fataneh Farahani, PhD and researcher at the department, has contributed to the new book Rethinking transnational men, published by Routledge.
From the abstract of Fataneh Farahani's article: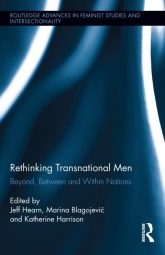 Rethinking transnational men
This article has grown of a research project on diasporic masculinities and is based on ethnographic field work among Iranian born man living in Sydney, Stockholm and London. Here, I discuss how migratory masculine subjectivities are not only shifting and plural, but also expose the interactions of intersecting factors such as race, age, class, self and community, past and present, the political and the religious and through the continual negotiation of identity. By studying diasporic masculinity(ies), I aim to address a lacuna in much of current masculinities studies, which, with all its layers and nuances, has tended to engage mainly with white men, as well as that in feminist/Middle Eastern studies, which, with all their complexities and differences, have mainly focused on the situation of women. A comparative ethnographic study of diasporic masculinities in three heterogeneous multicultural Western contexts show also how diasporic masculinities are shaped differently in different contexts.
Excerpt from the publisher's description of the book:
This volume gathers contributors from around the globe to explore various issues relating to men, gender relations, and transnationalism. Transnational processes - transnationalizations - take various forms, with major substantive, policy and theoretical implications for gender relations. In this context, men and gender relations can no longer be understood only locally or nationally. Thus, this collection focuses on men considered transnationally - that is, as transnational men - recognizing both stable transnational patterns and transnational processes of flux, especially at this current historical moment.
Senast uppdaterad: 5 september 2013
Webbredaktör: Henning Brüllhoff
Sidansvarig: Institutionen för etnologi, religionshistoria och genusvetenskap