Gender, Sexuality, and Diaspora - ny bok av Fataneh Farahani
Nu kommer Fataneh Farahanis bok Gender, Sexuality, and Diaspora ut på Routledge.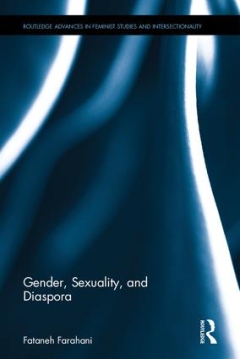 Ur förlagets beskrivning
To what extent do women accept, adjust and challenge the intersecting and shifting relations of cultural, political and religious discourses that organize their (sexual) lives?
Seeking to expand the focus on changing gender roles and construction of diasporic femininities and sexualities in migration studies, Farahani presents an original analysis of first generation Iranian immigrant women in Sweden. Certainly, highlighting the hybrid experiences of Swedish Iranians, Farahani explores the tensions that develop between the process of (self)disciplining women's bodies and the coping tactics that women employ. Subsequently, Gender, Sexuality, and Diaspora demonstrates how migratory experiences impact sexuality and, conversely, how sexuality is constitutive of migratory processes.
A timely book rich with empirical and theoretical insights on the subject of gender, diaspora and sexuality, it will appeal to scholars and undergraduate and postgraduate students of gender studies, anthropology, sociology, sexuality studies, diaspora, postcolonial and Middle Eastern studies.
Andra röster om boken
"This book is an important addition to the literature on gender and migration providing a much needed exploration of sexuality in the diaspora. Using a nuanced intersectional approach the book skilfully explores how Iranian women in Sweden negotiate and perform their sexuality under the constraints and contradictions they face. Through addressing issues of displacement, marginalisation, racism and sexism as well as patriarchal forms of control, it explores amongst other issues, love and marriage, veiling and unveiling practices, sexual experiences, and demands for sexual purity. The book offers a much needed exploration of how women are embedded within contradictory sets of social relations around sexuality and gender in diasporic relations. This book is highly recommended as a central contribution to the area."
Floya Anthias, Professor of Sociology, University of East London, UK, Professor of Sociology and Social Justice (Emeritus), Roehampton University, UK, Visiting Professor, City University, UK
"This is an informative and passionately argued study of how women's self-reflection in 'diasporic space', of sex and sexuality, veil, virginity, love and marriage, challenge past/present and home/foreign dichotomies. Farahani's analysis of sex, a vehemently protected taboo in Iranian/ Muslim culture and how it is unravelled in the process of displacement and migration is bold, perceptive and sensible."
Haideh Moghissi, Professor Emerita and Senior Scholar, Equity Studies, York University, Canada
"This is a profound and ground-breaking book and in my opinion, the single best treatment of diasporic sexuality through an analysis of the narratives of first generation Iranian immigrant women living in Sweden. The provocative stories of what constitutes a desirable (hetero) sexual feminine subject(s) in Iranian diasporic social settings, together with thoughtfully articulated analysis using Foucauldian discursive genealogy, illustrates how theoretical knowledge and narrations of socio-culturally constructed sexuality can be shared through meaningful and respectful scholarship. This work could not be more timely. It is one of the first to map out how Iranian women construct their multiple hybrid identities in their daily diasporic experiences. Each chapter shows how these identities are raced, gendered and transformed within processes of inclusion and exclusion in Swedish society. The book makes a compelling case for the contemporary relevance of studies on diaspora by transporting us from western understandings of gender and sexuality to narrations of identity and sexuality across regional, national and global spheres. It brings a rich diasporic sensibility to the study of culture and with the incisive contextual and empirical detail, creates promise, hope and inspiration to women all over the world."
Loshini Naidoo, Associate Professor, Centre for Educational Research, Western Sydney University, Australia
Senast uppdaterad: 9 oktober 2017
Webbredaktör: Henning Brüllhoff
Sidansvarig: Institutionen för etnologi, religionshistoria och genusvetenskap