Leila Karin Österlind and Pia Karlsson Minganti in New Book
Leila Karin Österlind, PhD Candidate, and Pia Karlsson Minganti, PhD, have contributed to the new book Islamic Fashion and Anti Fashion. New Perspectives from Europe and America edited by Emma Tarlo and Annelies Moors, published by Bloomsbury.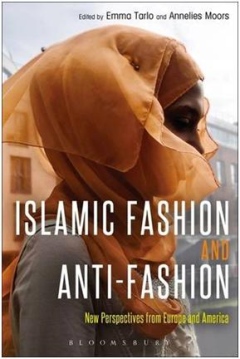 The book is the final product from the international research project called Islamic fashion: The emergence of Islam as a social force in Europe. The project was included in the larger NORFACE financed umbrella programme on 'Re-emergence of Religion as a Social Force in Europe?' (http://www.norface.net/pagina.asp?id=417) where two ERG researchers, Lena Gemzöe, Assistant Professor and Leila Karin Österlind, were engaged.
Pia Karlsson Minganti's article "Burqinis, Bikinis and Bodies: Encounters in the showers of public baths in Sweden and Italy" is included in section 1: LOCATION AND THE DYNAMICS OF ENCOUNTER.
Leila Karin Österlind's article "Made in France: Islamic Fashion Companies on Display" is included in section 3: MARKETS FOR ISLAMIC FASHION.
Review
"A stimulating and provocative collection of articles. Authors in Tarlo and Moors' volume provide new data about Muslim women's dress in several sites. Details highlight the tensions surrounding decisions of what to wear from both wearers' and viewers' perspectives, dispelling stereotypes about what it means to be veiled or covered. Their introduction and its bibliography alone are worth the price of the book." – Joanne B. Eicher, Editor-in-Chief, Encyclopedia of World Dress and Fashion
(For more information see: http://www.bloomsbury.com/us/islamic-fashion-and-anti-fashion-9780857853349/)

Senast uppdaterad: 16 september 2013
Webbredaktör: Henning Brüllhoff
Sidansvarig: Institutionen för etnologi, religionshistoria och genusvetenskap