Disputation: Hanna Jansson
EVENEMANG
Datum:
17 februari 2017 10:00
-
17 februari 2017 12:00
Plats:
Nordenskiöldsalen i Geovetenskapens hus, Frescati, t-bana Universitetet
Fredagen den 17 februari kl 10 försvarar etnologen Hanna Jansson sin avhandling "Drömmen om äventyret. Långfärdsseglares reseberättelser på internet".
Disputationen äger rum i Nordenskiöldsalen i Geovetenskapens hus, Frescati. Opponent är Susanne Nylynd Skog från Institutet för språk och folkminnen, Dialekt- och folkminnesarkivet i Uppsala (DFU).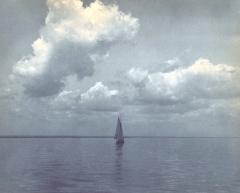 Om avhandlingen
This dissertation investigates the online travel writing of Swedish cruising sailors. The aim is to analyze how crews in online travelogues describe ongoing experiences, and to show how the journeys, the stories and the storytelling are mutually related to one another. As journeys are both the plots of the stories and the contexts for the storytelling, the travelogues in question challenge established narrative definitions.
The analysis combines Amy Shuman's folkloristic research on immediate storytelling with historian Reinhart Kosellecks' perspectives on time as situated and subjective. Storytelling is thereby understood as a contextual and variable practice: conditioned, enabled and limited by the writers' current position and point of view, and by a series of practical, technological, narrative and social factors.
The study is based on ethnographic fieldwork online and offline. The material primarily consists of four crews' blogs and web pages, written texts, photographs, and readers' comments. Interviews were conducted with the main informants and an additional fifteen crews in Sweden and in the harbours of Horta and Las Palmas.
As the analysis show, the sailors' write and publish updates from ever-changing positions in time and space, thereby depicting their journeys as a practical and cognitive process. These stories are to a great extent motivated by and directed towards the future, as sailors long for warmer destinations and worry about upcoming passages. The sailors write for a real-time audience partly consisting of families and friends, who anxiously wait for new updates. Writing is therefore sometimes perceived as a work-like task, and the sailors must develop strategies in order to write entertaining and exciting stories without further troubling their readers.
The study's result indicates that online storytelling can be understood as a process, which cannot be separated from the described events, nor from its everyday contexts. Stories, storytelling and experiences are understood as integrated with each other, since the storytelling as a practice become an established part of the everyday life during journeys.
Senast uppdaterad: 16 januari 2017
Webbredaktör: Henning Brüllhoff
Sidansvarig: Institutionen för etnologi, religionshistoria och genusvetenskap