Hej Crystal Brown, vår nya gästdoktorand!
Vi välkomnar en ny gästdoktorand, Crystal Brown från University of Oregon. Hon kommer närmast från Köpenhamn och besöker Skandinavien som Fulbright-stipendiat för att arbeta på sin avhandling i statsvetenskap om integration i framför allt Danmark och Sverige.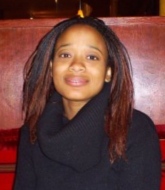 You are here as a Fulbright scholar, what made you choose Stockholm University and our department?
I chose Stockholm University because of its reputation as one of the leading education institutions in Sweden in regards to Art and the Humanities. I am in the Department of Ethnology, Religion, and Gender studies because I study different ethnic groups (people with foreign backgrounds) in Sweden and the way the government integrates them in to society. Furthermore, one of my close friends and colleagues works in the Department, which was the icing on the cake — as we say in America. I like how the Department works together as a team and each person seems to, at least greet, each other in the hallways. Academia can be isolating at times because we often have to "go at it alone" with our research. I believe the department does a good job of facilitating the sense of Community.
What is your particular field of study, and what will you be working on during your visit?
I am getting my PhD in Political Science with a focus in International Relations, migration, and racial politics from the University of Oregon. My research looks at successful and unsuccessful integration practices in Scandinavian countries, particularly in Denmark and Sweden. I am conducting interviews and distributing a survey to the general population while I am here. I will be interviewing people with foreign backgrounds in Sweden to ask them about integration. I will also be interviewing government officials, NGO leaders, and community leaders to ask them questions about the type of integration policies that work best to facilitate better outcomes in diverse communities. Prior to coming to Sweden I was in Denmark about 6 months conducting a similar research project. I hope by the end of my time in Sweden that I will have enough data to finish my dissertation!
Is this your first visit to Sweden? Any (first) impressions you would like to share?
I have been to Sweden several times over the past 6 years for vacation, conferences, and various trainings. I visited Malmo, Gothenburg, Helsingborg, and, of course, Stockholm. Many Americans have a Swedish background, but that is not the case for me. I am African/Black American and I do not have Swedish ancestry that I am aware of. I am interested in Scandinavia because of my advisor back home, who is Norwegian, suggested that I use Sweden and Denmark as my case studies when I told him I wanted to research immigration and integration in Europe.
The thing that strikes me the most about Sweden is how nice and polite people are here. I am a wacky American and Swedes just take it in one stride. I pronounce things wrong, laugh when I shouldn't, and I am talkative. I also like fika! My first day here we did fika. What a super cool concept. Who thought that drinking coffee with colleagues in the middle of the afternoon would be so relaxing? The candles really set the mood. I look forward to many afternoons having fika.
Senast uppdaterad: 16 januari 2018
Webbredaktör: Henning Brüllhoff
Sidansvarig: Institutionen för etnologi, religionshistoria och genusvetenskap